Brothers in arms double
Listado top ventas brothers in arms double

Argentina
Brothers In Arms Double Time Wii Original Nuevo Fisico Product Identifiers Publisher Ubisoft Game Brothers in Arms: Double Time MPN 008888173502 UPC 008888173502 Key Features Platform Nintendo Wii ESRB Rating M - Mature Genre Shooter Location USA Tech Details ESRB Descriptor Blood and Gore, Intense Violence, Strong Language Control Elements Gamepad/Joystick Number of Players 1 Release Year 2008 Game Special Features •Includes all 31 levels from Road to Hill 30 and Earned In Blood •Use the motion-sensitive controls to issue commands to squad members, toss grenades, and more •Advanced enemy AI will try to flank and outflank your squad Game Series Brothers in Arms Series
Ver aviso

Vicente López (Buenos Aires)
Brothers In Arms Double Time - Wii - Nuevo Caja Sellada Brothers In Arms Double Time - Wii - Nuevo Caja Sellada
$ 799
Ver aviso

Vicente López (Buenos Aires)
Brothers In Arms Double Time (n°38) Wii - Nuevo Caja Encuentra más productos de Consolas y Videojuegos, Videojuegos, Juegos Wii, Otras Series .
$ 728
Ver aviso
Argentina (Todas las ciudades)
Super Nintendo Wii Con Los Mejores 60 Juegos Incluidos La consola ideal para niños que se estan iniciando en el mundo de los video juegos, y es ideal por que es super intuitivo. Super Nintendo Wii con Caja Original Y manuales y todos los accesorios, Se vende todo Junto, Se escuchan Ofertas Razonables, esta chipeada y se pueden agregar mas juegos inclusive. La Mayoria de los juegos son digitales, con el fin de no gastar la lectora. Fisicos originales Super mario bros wii Mario kart Fisicos copia: Overkillresident evil 4 Topspin3 Super Mario galaxi Wii Play Super Smash bros brawl Digital: Fifa word cup 2002 Brothers in Arms Cars 2 Cars Toon: Mater's Tall Tales Cars Mater's International Donkey Kong Return Donkey Kong Barrel Blast Donkey Kong Jungle Beat Fifa Soccer 13 Acme Arsenal Marines Mario Sonic Olympic Games Mario y Sonic winter games Mario arcade gp Mario Kart Double Dash Mario Strikers Charged Medal of Honor Megaman Mortal Kombat Armagedon Pocoyo Sonic Adventure 2 Battle Sonic Adventure DX Sonic Gems Sonic Mega coleccion Toy Story Fifa Word Cup 2002 Battalion wars Brothers in Arms Cars Super Street Fighter II Turbo Virtual Figther 2 Yoshi Yoshi Story Yoshis Cookie Punch Time Explosion Club Penguien Game Day Crash Titans Dawn of Discovery Dragon Ball Revenge Drawn to life Emergency Mayhen F1 2009 Facebreaker ko party Hugo La era de hielo Namco museum megamix Sonic All Stars Sonic Colors Super Mario Papers Aladdin Magic Racer Bigfoot Collision Course Build Race.
Ver aviso
Argentina (Todas las ciudades)
Super Nintendo Wii Con Los Mejores 60 Juegos Excelente Estad La consola ideal para niños que se estan iniciando en el mundo de los video juegos, y es ideal por que es super intuitivo. Super Nintendo Wii con Caja Original Y manuales y todos los accesorios, Se vende todo Junto, Se escuchan Ofertas Razonables, esta chipeada y se pueden agregar mas juegos inclusive. La Mayoria de los juegos son digitales, con el fin de no gastar la lectora. Fisicos originales Super mario bros wii Mario kart Fisicos copia: Overkillresident evil 4 Topspin3 Super Mario galaxi Wii Play Super Smash bros brawl Digital: Fifa word cup 2002 Brothers in Arms Cars 2 Cars Toon: Mater's Tall Tales Cars Mater's International Donkey Kong Return Donkey Kong Barrel Blast Donkey Kong Jungle Beat Fifa Soccer 13 Acme Arsenal Marines Mario Sonic Olympic Games Mario y Sonic winter games Mario arcade gp Mario Kart Double Dash Mario Strikers Charged Medal of Honor Megaman Mortal Kombat Armagedon Pocoyo Sonic Adventure 2 Battle Sonic Adventure DX Sonic Gems Sonic Mega coleccion Toy Story Fifa Word Cup 2002 Battalion wars Brothers in Arms Cars Super Street Fighter II Turbo Virtual Figther 2 Yoshi Yoshi Story Yoshis Cookie Punch Time Explosion Club Penguien Game Day Crash Titans Dawn of Discovery Dragon Ball Revenge Drawn to life Emergency Mayhen F1 2009 Facebreaker ko party Hugo La era de hielo Namco museum megamix Sonic All Stars Sonic Colors Super Mario Papers Aladdin Magic Racer Bigfoot Collision Course Build Race. Anda excelente pero ahora viene con 1 solo wiimoote y el trafo se cayo y se rompio un toque el plastico pero anda excelente. Se puede probar todos y cada uno de los juegos antes de llevarlo. Estoy en San Justo pero puedo acercarlo a capital. Son 60 juegos sin repetir y esta excelente. Funciona todo
Ver aviso
Argentina (Todas las ciudades)
Nintendo Wii Con Juegos Fisicos Y Digitales La consola ideal para niños que se estan iniciando en el mundo de los video juegos, y es ideal por que es super intuitivo. Super Nintendo Wii con Caja Original Y manuales y todos los accesorios, Se vende todo Junto, Se escuchan Ofertas Razonables, esta chipeada y se pueden agregar mas juegos inclusive. La Mayoria de los juegos son digitales, con el fin de no gastar la lectora. Fisicos originales Super mario bros wii Mario kart Fisicos copia: Overkillresident evil 4 Topspin3 Super Mario galaxi Wii Play Super Smash bros brawl Digital: Fifa word cup 2002 Brothers in Arms Cars 2 Cars Toon: Mater's Tall Tales Cars Mater's International Donkey Kong Return Donkey Kong Barrel Blast Donkey Kong Jungle Beat Fifa Soccer 13 Acme Arsenal Marines Mario Sonic Olympic Games Mario y Sonic winter games Mario arcade gp Mario Kart Double Dash Mario Strikers Charged Medal of Honor Megaman Mortal Kombat Armagedon Pocoyo Sonic Adventure 2 Battle Sonic Adventure DX Sonic Gems Sonic Mega coleccion Toy Story Fifa Word Cup 2002 Battalion wars Brothers in Arms Cars Super Street Fighter II Turbo Virtual Figther 2 Yoshi Yoshi Story Yoshis Cookie Punch Time Explosion Club Penguien Game Day Crash Titans Dawn of Discovery Dragon Ball Revenge Drawn to life Emergency Mayhen F1 2009 Facebreaker ko party Hugo La era de hielo Namco museum megamix Sonic All Stars Sonic Colors Super Mario Papers Aladdin Magic Racer Bigfoot Collision Course Build Race. Anda excelente pero ahora viene con 1 solo wiimoote y el trafo se cayo y se rompio un toque el plastico pero anda excelente. Se puede probar todos y cada uno de los juegos antes de llevarlo. Estoy en San Justo pero puedo acercarlo a capital. Son 60 juegos sin repetir y esta excelente. Funciona todo
Ver aviso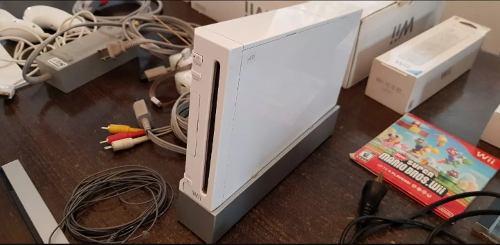 Argentina (Todas las ciudades)
Consola Nintendo Wii + Juegos Fisicos Y Digitales Leér! CONSULTAR DISPONIBILIDAD!!! La consola ideal para niños que se estan iniciando en el mundo de los video juegos, y es ideal por que es super intuitivo. Super Nintendo Wii con Caja Original Y manuales y todos los accesorios, Se vende todo Junto, Se escuchan Ofertas Razonables, esta chipeada y se pueden agregar mas juegos inclusive. La Mayoria de los juegos son digitales, con el fin de no gastar la lectora. Fisicos originales Super mario bros wii Mario kart Fisicos copia: Overkillresident evil 4 Topspin3 Super Mario galaxi Wii Play Super Smash bros brawl Digital: Fifa word cup 2002 Brothers in Arms Cars 2 Cars Toon: Mater's Tall Tales Cars Mater's International Donkey Kong Return Donkey Kong Barrel Blast Donkey Kong Jungle Beat Fifa Soccer 13 Acme Arsenal Marines Mario Sonic Olympic Games Mario y Sonic winter games Mario arcade gp Mario Kart Double Dash Mario Strikers Charged Medal of Honor Megaman Mortal Kombat Armagedon Pocoyo Sonic Adventure 2 Battle Sonic Adventure DX Sonic Gems Sonic Mega coleccion Toy Story Fifa Word Cup 2002 Battalion wars Brothers in Arms Cars Super Street Fighter II Turbo Virtual Figther 2 Yoshi Yoshi Story Yoshis Cookie Punch Time Explosion Club Penguien Game Day Crash Titans Dawn of Discovery Dragon Ball Revenge Drawn to life Emergency Mayhen F1 2009 Facebreaker ko party Hugo La era de hielo Namco museum megamix Sonic All Stars Sonic Colors Super Mario Papers Aladdin Magic Racer Bigfoot Collision Course Build Race. Anda excelente pero ahora viene con 1 solo wiimoote y el trafo se cayo y se rompio un toque el plastico pero anda excelente. Se puede probar todos y cada uno de los juegos antes de llevarlo. Estoy en San Justo pero puedo acercarlo a capital. Son 60 juegos sin repetir y esta excelente. Funciona todo
Ver aviso
Argentina (Todas las ciudades)
Excelente Consola Nintendo Wii + Juegos Fisicos Y Digitales La consola ideal para niños que se estan iniciando en el mundo de los video juegos, y es ideal por que es super intuitivo. Super Nintendo Wii con Caja Original Y manuales y todos los accesorios, Se vende todo Junto, Se escuchan Ofertas Razonables, esta chipeada y se pueden agregar mas juegos inclusive. La Mayoria de los juegos son digitales, con el fin de no gastar la lectora. Fisicos originales Super mario bros wii Mario kart Fisicos copia: Overkillresident evil 4 Topspin3 Super Mario galaxi Wii Play Super Smash bros brawl Digital: Fifa word cup 2002 Brothers in Arms Cars 2 Cars Toon: Mater's Tall Tales Cars Mater's International Donkey Kong Return Donkey Kong Barrel Blast Donkey Kong Jungle Beat Fifa Soccer 13 Acme Arsenal Marines Mario Sonic Olympic Games Mario y Sonic winter games Mario arcade gp Mario Kart Double Dash Mario Strikers Charged Medal of Honor Megaman Mortal Kombat Armagedon Pocoyo Sonic Adventure 2 Battle Sonic Adventure DX Sonic Gems Sonic Mega coleccion Toy Story Fifa Word Cup 2002 Battalion wars Brothers in Arms Cars Super Street Fighter II Turbo Virtual Figther 2 Yoshi Yoshi Story Yoshis Cookie Punch Time Explosion Club Penguien Game Day Crash Titans Dawn of Discovery Dragon Ball Revenge Drawn to life Emergency Mayhen F1 2009 Facebreaker ko party Hugo La era de hielo Namco museum megamix Sonic All Stars Sonic Colors Super Mario Papers Aladdin Magic Racer Bigfoot Collision Course Build Race. Anda excelente pero ahora viene con 1 solo wiimoote y el trafo se cayo y se rompio un toque el plastico pero anda excelente. Se puede probar todos y cada uno de los juegos antes de llevarlo. Estoy en San Justo pero puedo acercarlo a capital. Son 60 juegos sin repetir y esta excelente. Funciona todo
Ver aviso
Argentina (Todas las ciudades)
Nintendo Wii Con 60 Juegos Fisicos Y Digitales (efectivo!) La consola ideal para niños que se estan iniciando en el mundo de los video juegos, y es ideal por que es super intuitivo. Super Nintendo Wii con Caja Original Y manuales y todos los accesorios, Se vende todo Junto, Se escuchan Ofertas Razonables, esta chipeada y se pueden agregar mas juegos inclusive. La Mayoria de los juegos son digitales, con el fin de no gastar la lectora. Fisicos originales Super mario bros wii Mario kart Fisicos copia: Overkillresident evil 4 Topspin3 Super Mario galaxi Wii Play Super Smash bros brawl Digital: Fifa word cup 2002 Brothers in Arms Cars 2 Cars Toon: Mater's Tall Tales Cars Mater's International Donkey Kong Return Donkey Kong Barrel Blast Donkey Kong Jungle Beat Fifa Soccer 13 Acme Arsenal Marines Mario Sonic Olympic Games Mario y Sonic winter games Mario arcade gp Mario Kart Double Dash Mario Strikers Charged Medal of Honor Megaman Mortal Kombat Armagedon Pocoyo Sonic Adventure 2 Battle Sonic Adventure DX Sonic Gems Sonic Mega coleccion Toy Story Fifa Word Cup 2002 Battalion wars Brothers in Arms Cars Super Street Fighter II Turbo Virtual Figther 2 Yoshi Yoshi Story Yoshis Cookie Punch Time Explosion Club Penguien Game Day Crash Titans Dawn of Discovery Dragon Ball Revenge Drawn to life Emergency Mayhen F1 2009 Facebreaker ko party Hugo La era de hielo Namco museum megamix Sonic All Stars Sonic Colors Super Mario Papers Aladdin Magic Racer Bigfoot Collision Course Build Race. Anda excelente pero ahora viene con 2 wiimoote y el trafo se cayo y se rompio un toque un poco el plastico (del trafo, NO de la consola) pero anda excelente. Se puede probar todos y cada uno de los juegos antes de llevarlo. Estoy en San Justo pero puedo acercarlo a capital. Son 60 juegos sin repetir y esta excelente. Funciona todo
Ver aviso
Argentina (Todas las ciudades)
Nintendo Wii + 50 Juegos Fisicos Y Digitales Leér CONSULTAR DISPONIBILIDAD!!! La consola ideal para niños menores a 10 años, y es ideal por que es super intuitivo. Super Nintendo Wii con Caja Original Y manuales y todos los accesorios, Se vende todo Junto, Se escuchan Ofertas Razonables, esta chipeada y se pueden agregar mas juegos inclusive. La Mayoria de los juegos son digitales, con el fin de no gastar la lectora. Fisicos originales Super mario bros wii Mario kart Fisicos copia: Overkillresident evil 4 Topspin3 Super Mario galaxi Wii Play Super Smash bros brawl Digital: Fifa word cup 2002 Brothers in Arms Cars 2 Cars Toon: Mater's Tall Tales Cars Mater's International Donkey Kong Return Donkey Kong Barrel Blast Donkey Kong Jungle Beat Fifa Soccer 13 Acme Arsenal Marines Mario Sonic Olympic Games Mario y Sonic winter games Mario arcade gp Mario Kart Double Dash Mario Strikers Charged Medal of Honor Megaman Mortal Kombat Armagedon Pocoyo Sonic Adventure 2 Battle Sonic Adventure DX Sonic Gems Sonic Mega coleccion Toy Story Fifa Word Cup 2002 Battalion wars Brothers in Arms Cars Super Street Fighter II Turbo Virtual Figther 2 Yoshi Yoshi Story Yoshis Cookie Punch Time Explosion Club Penguien Game Day Crash Titans Dawn of Discovery Dragon Ball Revenge Drawn to life Emergency Mayhen F1 2009 Facebreaker ko party Hugo La era de hielo Namco museum megamix Sonic All Stars Sonic Colors Super Mario Papers Aladdin Magic Racer Bigfoot Collision Course Build Race. Anda excelente viene con 2 wiimoote y 2 Nunchuk. Se puede probar todos y cada uno de los juegos antes de llevarlo. Estoy en San Justo. Son 60 juegos sin repetir y esta excelente. Funciona todo
Ver aviso