Cd little
---
Listado top ventas cd little
Chacarita (Capital Federal)
Cd nuevo importado "Little Of The Past" (1994) de LITTLE ANGELS editado por Polydor Ltd. (UK). Recopilación con los mejores temas de esta importante banda de Hard Rock estadounidense de finales de los años 1980 y de mediados de los años 1990. Precio contado: 300 pesos. Cel.: 15-6487-2350 Edgardo (respondo tambien mensajes de whatsapp)
Ver aviso
Formosa (Formosa)
CD single Celine Dion Live to Tell Tracks 1.- Where Does My Heart Beat Now 2.- That is The Way It is 3.- Because you Love Me 4.- Just A Little Bit Of Love 5.- A ney Day Has Come (Radio Remix) 6.- Im Alive (joe Bermudez club Mix) El producto esta en perfecto estado nunca se lo uso. Estado Nuevo. (no viene perfume solo es el single)
$ 650
Ver aviso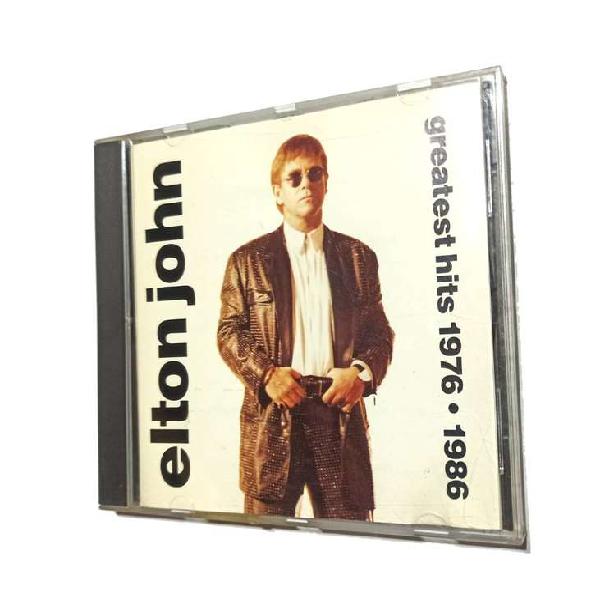 San Cristóbal-Capital Federa (Capital Federal)
Cd de Elton John Greates Hits 1976 - 1986 Usado, en excelente estado. Original, con cancionero. Lista de canciones: 1. i´m still standing. 2. Mama can´t buy you love. 3. Sorry seems to be the hardest word 4. Little jeannie. 5. Blue eyes. 6. Don´t go breaking my heart. 7. Empty garden (hey, hey johnny). 8. Kiss the bride. 9. I guess that´s why they call it the blues. 10. Who wears these shoes?. 11. Sad songs (say so much). 12. Wrap her up. 13. Nikita. El artículo se puede retirar por el barrio de monserrat, a unas 10 cuadras del obelisco. A pocas cuadras de la estación de subte "Independencia" de la lineas C y E. Se puede retirar por monserrat de lunes a viernes antes de las 8am o sino despues de las 19:30hs. Sabado o domingo en cualquier horario a coordinar. > Se realizan envios a traves de mercadoenvios, el costo depende de la zona <
$ 420
Ver aviso
San Cristóbal-Capital Federa (Capital Federal)
Cd compact disc de Queen - Greatest hits Grandes exitos de una de las mejores bandas de rock del planeta. Usado, en mut buen estado, en caja con librito. EMI - 1981 Canciones: 1. Bohemian rhapsody 2. Another one bits the dust 3. Killer queen 4. Fat bottomed girls 5. Bicycle race 6. You´re my best friend 7. Don´t stop me now 8. Save me 9. Crazy little thing called love 10. Somebody to love 11. Now i´m here 12. Good old-fashioned lover boy 13. Play the game 14. Flash 15. Seven seas of rhye 16. We will rock you 17. We are the champions El artículo se puede retirar por el barrio de monserrat, a unas 10 cuadras del obelisco. A pocas cuadras de la estación de subte "Independencia" de la lineas C y E. Se puede retirar por monserrat de lunes a viernes antes de las 8am o sino despues de las 19:30hs. Sabado o domingo en cualquier horario a coordinar. > Se realizan envios a traves de mercadoenvios, el costo depende de la zona <
$ 680
Ver aviso
San Cristóbal-Capital Federa (Capital Federal)
Cd The Beatles Parlophone Beatles for sale. Usado, en buen estado. Completo con librito y caja. EMI Records - Made in England. Ideal para tener en tu coleccion. Canciones: 1. No reply 2. I´m a loser 3. Baby´s in black 4. Rock and roll music 5. I´ll follow the sun 6. Mr. Moonlight 7. Medley a.Kansas city b. Hey, hey, hey, hey 8. Eight days a week 9. Words of love 10. Honey don´t 11. Every little thing 12. I don´t want to spoil the party 13. What you´re doing 14. Everybody´s trying to be my baby El artículo se puede retirar por el barrio de monserrat, a unas 10 cuadras del obelisco. A pocas cuadras de la estación de subte "Independencia" de la lineas C y E. Se puede retirar por monserrat de lunes a viernes antes de las 8am o sino despues de las 19:30hs. Sabado o domingo en cualquier horario a coordinar. > Se realizan envios a traves de mercadoenvios, el costo depende de la zona <
$ 630
Ver aviso
San Cristóbal-Capital Federa (Capital Federal)
Título: "Discovery". Año: 1979 (reedición en CD de 1986). Sello: Jet Records / CBS ZK 35769 (Estereo). País de origen: Estados Unidos. Listado de temas: Shine a little love / Confusion / Need her love / The diary of Horace Wimp / Last train to London / Midnight blue / On the run / Wishing / Dont bring me down. Detalle: la lámina interna viene con las letras de las canciones, detalle que la edición argentina del LP omitió, pero sí respetó la tapa doble del original británico. Detalle: para quién busque el formato LP, está entre mis artículos en venta.
$ 1.000
Ver aviso
San Cristóbal-Capital Federa (Capital Federal)
Título: "The very best of Supertramp". Año: 1990. Sello: A&M / Polygram 397091-2 (Estereo). País de origen: Alemania. Listado de temas: School / Goodbye stranger / The logical song / Bloody well right / Breakfast in America / Rudy / Take the long way home / Crime of the century / Dreamer / Aint nobody but me / Hide in your shell / From now on / Give a little bit / Its raining again / Cannonball. Detalle: el booklet viene con una brografía del grupo y una sinopsis de sus discos en el mencionado sello. Recopilación de canciones comprendidas en el período 1974 al 85. Muy buen estado en general.
$ 1.000
Ver aviso
San Cristóbal-Capital Federa (Capital Federal)
Título: "Hits collection Nº 23". Año: 1998. Sello: Independiente S/N (Estereo). País de origen: Argentina. Perteneciente a una colección de la revista "Semanario", publicada originalmente entre los años 1979 a 2016, pero que retornó en junio de 2020. Listado de temas: Sellado con un beso (Sealed with a kiss; Bryan Hyland) / Dulces sueños (Sweet dreams; Patsy Cline) / Nuestro día vendrá (Our day will come; Frankie Valli) / Tú perteneces a la ciudad (You belong to the city; Glenn Frey) / No puedo soltarte (Cant turn you loose; The Blues Brothers Band) / Im your hoochie coochie man (Muddy Waters) / Estoy de humor (Im in the mood; John Lee Hooker) / Sé un poco más tierna (Try a little tenderness; The Commitments) / Ruby, no lleves tu amor al pueblo (Ruby, dont take your love to town; Kenny Rogers) / Licencia para matar (Licence to kill; Gladys Knight) / Volando (Flying; John Williams) / El Padrino (The Godfather finale; Nino Rota). Estado: bueno en general (fue probado en su integridad). No viene con su correspondiente fascículo sino suelto.
$ 500
Ver aviso
Rosario (Santa Fe)
Lisa Stansfield / Real Love. Original, importado. Impreso en Alemania Muy buen estado (cd impecable, sin marcas de uso). Listado de temas: 1. Change, 2. Real Love, 3. Set Your Loving Free, 4. I Will Be Waiting, 5. All Woman, 6. Soul Deep, 7. Make Love to Ya, 8. Time to Make You Mine, 9. Symptoms of Loneliness & Heartache, 10. It's Got to Be Real, 11. First Joy, 12. Tenderly, 13. Little More Love Su consulta no molesta y será respondida a la brevedad.
$ 300
Ver aviso

Argentina (Todas las ciudades)
Coleccion de 24 CD originales de musica Rock y Pop de los años 60, 70 y 80 interpretes varios como: Paul Simon, Ray Charles, Bee Gees, Gloria Gaynos, John Mitchel, Jimmy Hendrixs, Elvis Presley, Kenny Roggers, Moody Waters, Trini Lopez, Los Plateros, Charles Aznavour, Little Richard, Celine Dion, Tina Turner, Louis Armstrong, The Mamas & The Papas, Bob Marley,Bill Halley, Chby Checker, Carly Simo...
Ver aviso
San Nicolás de los Arroyos (Buenos Aires)
Vendo libro de ingles "MY LITTLE ISLAND 1" CON CD INCLUIDO. Libro nuevo, sin uso...
$ 1.000
Ver aviso